How to choose a Merino Base Layer for your child this Winter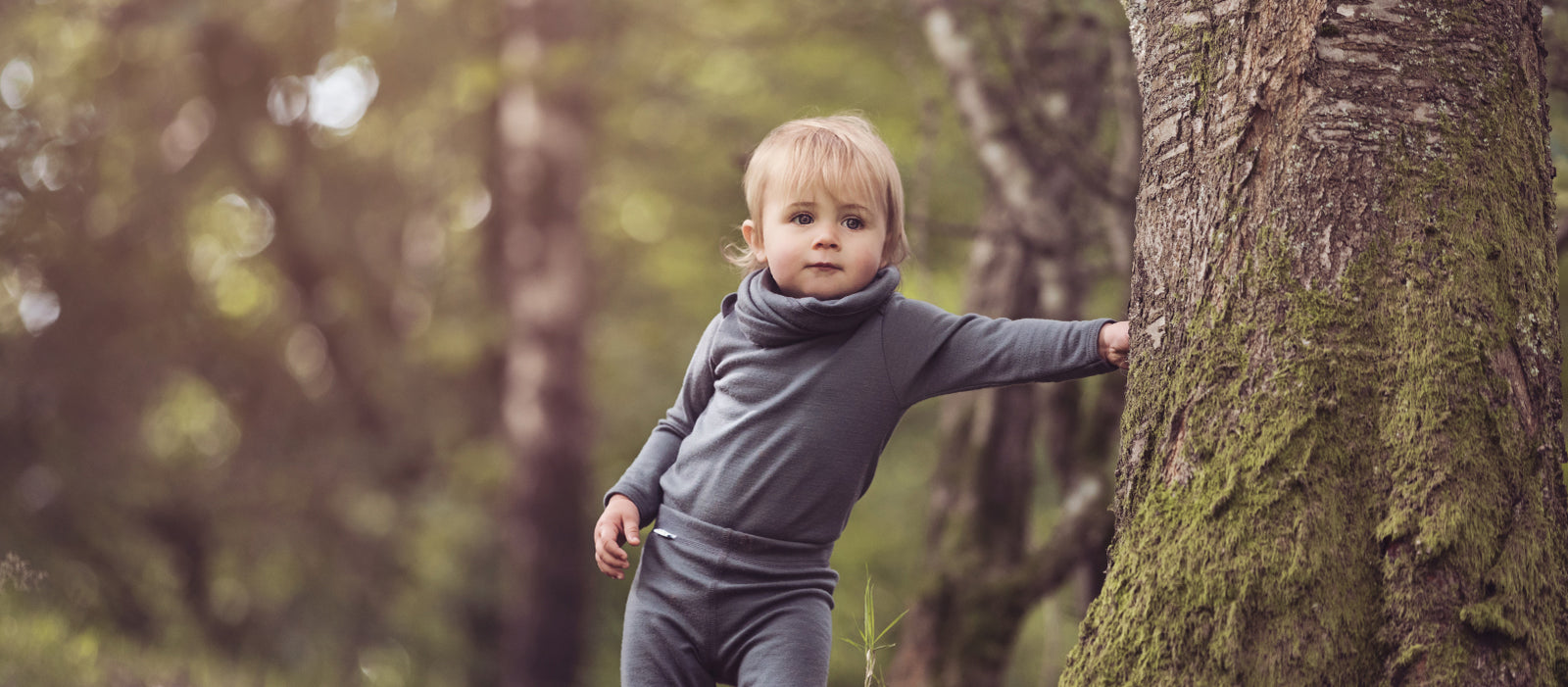 A good base layer will keep your child happy and comfortable year round in all kinds of weather.
Ensuring your baby or toddler is warm enough (but not too hot) can be a constant worry for parents during cold weather. This is especially so in Britain and Northern Europe where low temperatures, rain, wind, frosts and snow are common not only in the winter, but often in autumn and spring as well.
Dressing your baby or toddler in multiple thin layers offers better warmth than a single thick later as warm pockets of air are held between each layer. Layering also makes it much easier to control your child's body temperature as you can add or remove layers if conditions change – such as moving from indoors to outdoors or vice versa.


Why are base layers so important for babies, toddlers and children?
Newborns and very young babies have difficulty regulating their own temperature and are very prone to losing body heat, this is partly down to a developing circulatory system and partly due to their (relatively large) size to body weight ratio. The ability to regulate body temperature develops over time, so in the early months they need a helping hand to ensure they are warm and cosy but at the same time, that they are not at risk of overheating – especially when sleeping.
Older babies and toddlers and small children have a slightly easier time regulating their body temperature, although they will still lose heat twice as quickly as adults do and as they grow and become more active, dribble and spills become a part of daily life along with a love for muddy puddles and adventures in any weather. The challenge is keeping them dry and warm in cooler weather, whilst also keeping bulk to a minimum so freedom of movement is not inhibited.


How can I tell if my child is warm enough?
The best way to test this is to feel their core (back of the neck, tummy or small of the back) which should feel warm - but not hot. Hands and feet are not a good guide as it is normal for them to feel quite a bit colder than everything else – especially in very young babies who have immature circulatory systems.
Outside where this is harder to gauge, use your own comfort as a guide (take what you are wearing in relation to your baby into account too!). As a rule of thumb for babies older than 6 months & toddlers should be dressed similarly to how you would dress yourself for the same conditions – keep in mind that if wet or windy their rate of heat loss is still faster.
Babies younger than 6 months and new-borns need to be dressed a little more warmly than you would. So consider adding an extra layer or choose thermal fabrics (such as
merino wool
) specifically designed for cold temperatures.
What should I look for in a good base layer?
The base layer is worn next to the skin and is in many ways the true key to warmth as the layer of air next to the skin is like a micro-climate and has the most direct bearing on the comfort of its little wearer.
-
Provides the first layer of insulation, trapping a layer of air next to the skin and creating a temperature and moisture 'microclimate'
-
Draws excess moisture (dribble, leaks, puddle splashes, spills – with little ones it is all on the cards) away from the skin where it can cause discomfort and chills. This is a process known as wicking.
First and foremost, always choose natural fabrics for use with babies and toddlers. Natural fabrics breathe and reduce the risk of overheating, are more comfortable and are not flammable like synthetics usually are. Beyond this, the fabric to choose depends on the season and the weather.
 

Fabric

Pros
Cons
Look for
Avoid
Merino wool

Natural

Highly breathable

Very soft / no itch

Very warm in cold weather and cool in hot

stays warm if wet

Lightweight

Hypoallergenic & suitable for eczema and sensitive skins

Wicks moisture away from skin

Water resistant

Easy to care for

Durable

Fire resistant

Naturally antibacterial

Good quality merino is moderately expensive

Ethical farming & animal welfare certifications.

 

At least 200gsm (ideally more)

 

Always choose Superfine merino as this grade of wool is very soft for baby skin, yet durable enough to withstand even the most active toddler play

'Cheap' merino, with merino you get what you pay for. Cheap merino is usually too thin to be effective or made from inferior quality / courser grade merino.
Bamboo

Natural

Highly breathable

Very soft / no itch

Lightweight

Hypoallergenic

Wicks moisture away from skin

Easy to care for

Durable

Sustainable

Despite being marketed as green fabric, bamboo is heavily processed using very toxic chemical and therefore generally considered enviromentally unfriendly.

Moderately expensive

Not as warm

Holds onto moisture

Fabric processed using closed loop systems which help lessen the chemical output.
Cotton

Breathable,

relatively cheap (less so for organic cotton)

Easy to care for

Durable

Readily available and lots to choose from

Cotton does not insulate well in cold weather, holds on to water, dries slowly and can chill the

wearer. Non organic cotton requires intensive chemical inputs to produce. Not ideal for babies and toddlers.
100% organic fabrics are best since regular cotton contains a lot of chemicals
Outside of summer
Synthetics

Cheap

Warm

Highly wicking

Non breathable

Risk of overheating

Traps moisture next to skin causing discomfort and clamminess

Flammable

Odours get trapped and build up.

Synthetic fabrics are best avoided worn next to the skin in babies and toddlers - Mainly as they are not breathable and can lead to overheating. They are also less comfortable to wear against sensitive skin and unless chemically treated, are highly flammable fabrics. Leave the synthetics to those sweatier Dads who will appreciate the strong wicking action (so long as they don't mind being a little smelly too)
Summary
Superfine Merino wool, because of its superior insulation, moisture management (wicking) and breathability, is by far the best fibre for baby and toddler base-layers. It makes an excellent choice as pyjamas because it is a natural fire retardant and studies have shown it improves sleep. Invest in 100% pure good quality superfine merino in a GSM weight of over 220gsm - especially if you live in the UK or northern parts of Europe, thinner merino of 150-200gsm is often designed by antipodean merino brands their own climates in mind (it's still great, but you'll need more layers). Organic Cotton whilst also soft, natural and breathable does not insulate well enough for winter and becomes heavy and cold when wet, unlike merino which stays warm and dries quickly (perfect for catching dribble!). Other fabrics are either not suited to wearing next to the skin in babies and toddlers or not ideal from an environmental or safety perspective.
---