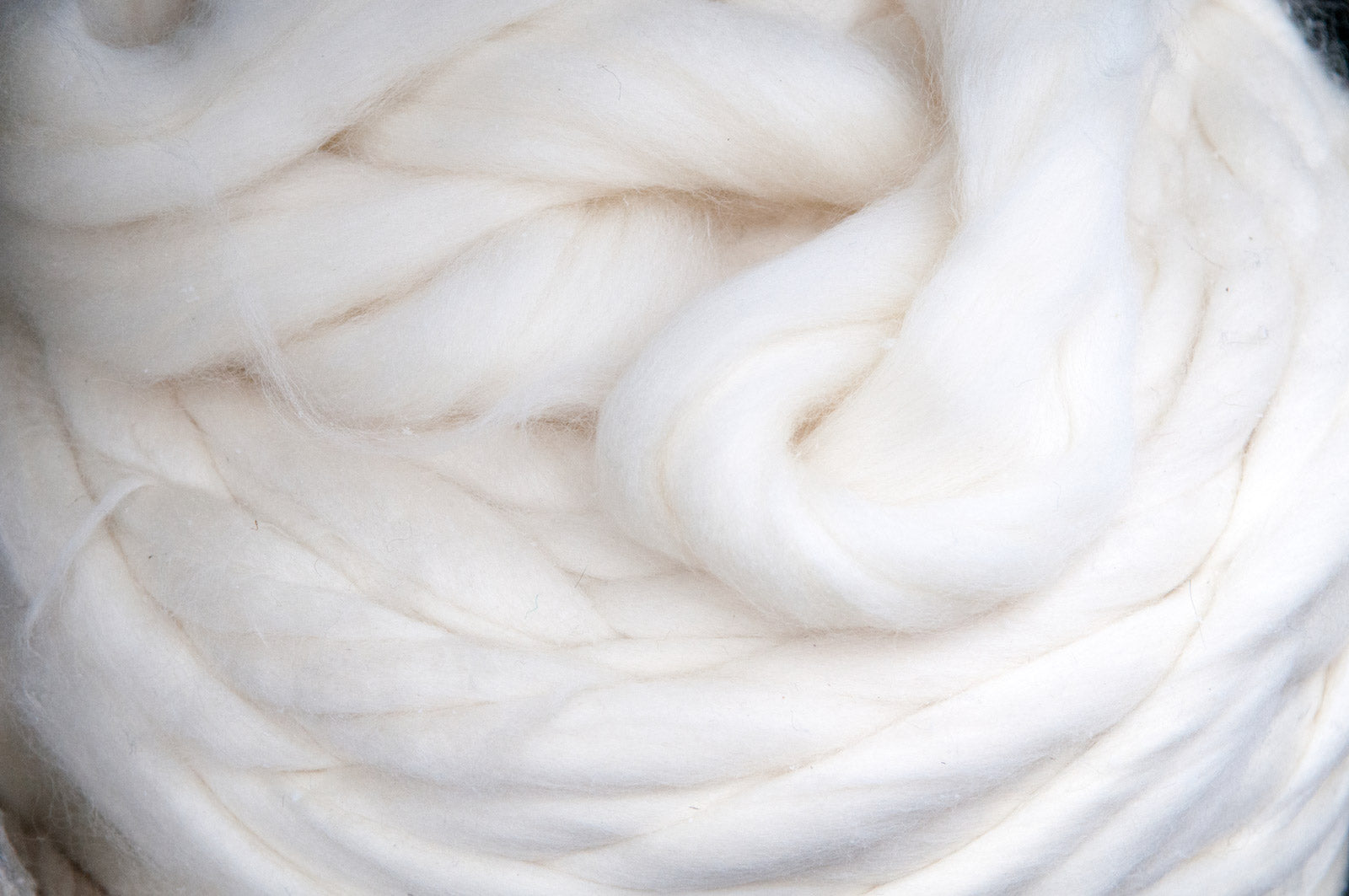 The Magic of Superfine Merino
Superfine Merino is an extremely fine and silky soft type of 'superwool' that comes from Merino sheep - an ancient breed evolved over thousands of years to thrive in the most extreme environments on earth. Superlove sheep free-range the Southern Alps of New Zealand, where temperatures range from 35°C in summer to -15°C in winter.

In these cold, dry conditions, just as nature intended, the sheep grow gossamer soft fleeces of Superfine wool - the most sought after wool in the world, renowned for its quality, purity and luxe softness.

We source only the absolute best quality ZQ-certified merino and double knit it to create extra loft.
You'll feel the difference at first touch
Thermoregulation
Superwarm or Supercool?
Merino wool fibres natually hold thousands of tiny air bubbles within their structures. This creates a micro-climate around the body. Merino wool insulates better than any other fibre, yet it is also so highly breathable, any excess heat is detected and released as things warm up. Perfect year-round temperature regulation and comfort whatever the weather!
This is extra important for babies and toddlers - who cannot adapt to temperature changes as well as adults and lose body heat up to 4 times faster.

Moisture Management
Merino wool is highly breathable and dries super-fast. So if the day brings them spills, dribble, nappy leaks or puddles - and you a lot of laundry as a result, it's good news all round.
Nature's magic intensifies in the presence of moisture (even the tiniest hint from skin or air). A tiny-yet-powerful natural chemical reaction generates or removes up to 4°C. So on cold days, if they insist on that puddle, let them go for it, they'll be warmer than before.
Merino fabric also won't start feeling wet to touch until it's 60% saturated. Moisture then evaporates outward into the air to keep the wearer feeling warm and dry all day.

Sleep Enchancing
Several studies show that infants wearing and/or sleeping in merino have notably improved sleep patterns.

Owing to superior temperature & moisture regulation, infants were more relaxed, settled faster, slept for longer with less waking and also spent significantly more time in the deepest phase of sleep - where growth and brain development most occur.
A bona fide superpower

Superlove = Supersoft
Superlove Merino is 1/10th the width of a human hair and so superfine is falls below the threshold that can be felt on the skin. Unlike other types of wool -which are much coarser - each merino fibre has a silky outer layer & extremely soft, fine texture. Superfine merino fabric is totally itch free and comfortable to wear against even the most sensitive skin
Studies have shown that Superfine grade Merino wool helps to soothe and alleviate the symptoms of eczema when worn right next to skin

Bio-Resonance and Healing
According to studies, the human body has a signature bio-electrical frequency of 100, and organic cotton is the same – 100.  The study showed that clothing with a frequency lower than 100, interupts this field and creates a strain on the body.  A diseased person has a frequency of about 15, and that is also where polyester, rayon, and silk register. However, if the fabric has a higher frequency, it gives bio-electrical energy TO the body, supporting cell renewal and healing.  This is where wool shines, with a natural frequency of 5,000. A facinating topic as further research emerges, it's interesting to note this phenomina is mentioned in the bible and throughout Chinese medicine in reference to wei chi

Machine Wash + Easy Dry
Superlove Merino is specially constructed to be super easy care, in fact, it will keep its shape, resist shrink and hold dye far better than cotton items do.

Being breathable means airing is usually enough to refresh and renew. When it does need to be cleaned, our wool can be machine washed in a regular cycle and dries super-fast. Superlove Merino can be tumble dried on low.
Merino is also static resistant so it picks up less dust, making it an excellent option for little ones with asthma or allergies.

Antibacterial and Anti-Odour
They may be cute, but babies and toddlers can also be right little germ magnets, so it's good to know that their clothing will stay fresh and smelling nice no matter what lands on it. Merino wool is naturally antibacterial thanks to the moisture absorbing core and moisture repelling exterior - so there is nowhere for those moisture loving microbes to grow. Merino also contains lanolin and keratin (a substance naturally found in our skin, hair and nails) both of which have natural yet powerful antibacterial and antimicrobial properties.

Fire Resistance
Rest assured, the unique fire and UV resistant properties of merino wool make it a truly super safe
option for little ones. Merino is naturally flame resistant and self-extinguishing, in fact merino base layers are preferred choice of fire fighters and military personnel for this very reason. When exposed to a naked flame merino will slightly char, and then just go out.... Unlike synthetic materials which will melt and stick to skin or cotton, bamboo & linen which have much higher burn rates.
Being naturally so fire resistant means there is absolutely no need for toxic 'forever' fire retardant chemicals usually required in childrens nightware to make them 'safer'


UPF 50+
Merino fabrics have a UPF factor of around 50 which is much higher than any other fabric. Perfect defence against harsh sunlight and especially handy if you will be spending time in snow or at ski resorts.

Planet Friendly - Naturally
Merino wool is a natural resource which is biodegradable, sustainable and a renewable resource, growing back year after year. Wool simply differs from all the other natural 'eco' sounding'plant or tree' fibres, in that it requires very little processing (and none of the chemical or energy intensive sort) to turn it from a raw materials into a soft ready to wear fabric. Similarly, wool keeps you cosy warm without shedding any microplastics into our soils as oceans with every wash as happens with synthetics (recycled or not). There is no greenwashing with wool, it's simply not needed

Durable + Long Lasting
Merino wool fibres can be bent 20,000 times before breaking. By comparison, a cotton fibre will break after 3,000 times and silk after just 2,000. Wool also holds dyes better than other fabrics, so not only will your Superlove merino garments last for ages, they'll keep their beautiful boxfresh appearance too!

Stretch, Move + Grow!
Merino wool has huge natural elasticity & keep its shape and feel no matter how many times it's stretched or washed, so there is no chance of garments sagging or losing form over time. This makes it incredibly comfortable to wear and allows for growth and movement. We've constructed our fabrics to take full advantage of this natural stretch so often it is still being worn months after the age range on the label has passed.
Superlove merino has such a high warmth-to-weight ratio that it is super cosy but with no bulk to inhibit freedom of movement and comfort
Discover Award Winning Merino